Number five is alive for Steve Redgrave!
Great Britain's biggest Olympic star, rowing great Steve Redgrave, who has just saluted in the coxless fours to win a stunning fifth gold in as many Games. He has now stood on top of the podium at every Olympics since 1984 in Los Angeles.
It was a close call but Redgrave, with Matthew Pinsent, James Cracknell and Tim Foster, were able to hold off the Italians by less than half a second.
Afterwards, Redgrave told his crew: "Remember these six minutes for the rest of your lives. Listen to the crowds and take it all in. This is the stuff of dreams."
Britons Matthew Pinsent, Tim Foster, Steven Redgrave and James Cracknell (R to L) smile on the podium after winning the gold medal in the men's coxless fours.Credit:Reuters
Australia take a stunning gold in the water polo!
Jubilation for our water polo heroes! The host nation has won gold in a dramatic, intense and ultimately successful final against the USA, with Yvette Higgins the hero.
Higgins fired one past American goalkeeper Bernice Orwig with just 1.3 seconds left on the clock to secure the 4-3 victory. It was the first time women's water polo had been contested at an Olympics and the Australians had campaigned so hard to make that happen.
Gail Miller and Yvette Higgins celebrate Higgins' winning goal.Credit:Orlando Chiodo
Now they have put down a sporting memory that will last them a lifetime, not to mention the 17,000 fans on hand to cheer them on. What a moment.
Records tumbling at the pool
The American quartet of Barbara Bedford, Megan Quann, Jenny Thompson and Dara Torres have set a new world record in the women's 4x100m medley relay, stopping the clock at 3:58.30s.
It was a dominant win that saw them touch well ahead of silver medal winners Australia (4:01.59s), who had a quality team of Dyana Calub, Leisel Jones, Petria Thomas and Susie O'Neill. Japan were the surprise bronze medallists.
Nailed it … Inge de Bruijn has won another gold.Credit:AP
And the brilliant Games of Dutch star Inge de Bruijn continued, with the sprint star taking out the 50m freestyle in 24.32s. She already has gold in the 100m free and 100m fly, setting new world records in all three.
Hail the new distance king: Grant Hackett
Young Queenslander Grant Hackett has defied a sluggish Olympic meet to power to a stunning gold in the 1500m freestyle, denying Kieren Perkins a third successive gold in the event.
Hail the new king: Grant Hackett wins the 1500m in Sydney, with Kieren Perkins collecting silver.Credit:Steve Christo
Perkins put the writing on the wall in the heats with a sub-15 minute swim and looked to be in ominous form once more, while Hackett – who has owned this event over recent years – appeared to be a little below his best throughout his other events.
That mattered not in the final. Hackett went out hard and kept it going, daring Perkins to catch him if he could. The crowd was behind the old lion but the young king would not relent as he powered to the wall in 14:48.33s and celebrated accordingly.
Perkins left nothing in the tank to take silver in 14:53.59s, with Chris Thompson from the USA in third. It was a fitting end to a brilliant and unforgettable meet in Sydney that saw legends made and new stars emerge.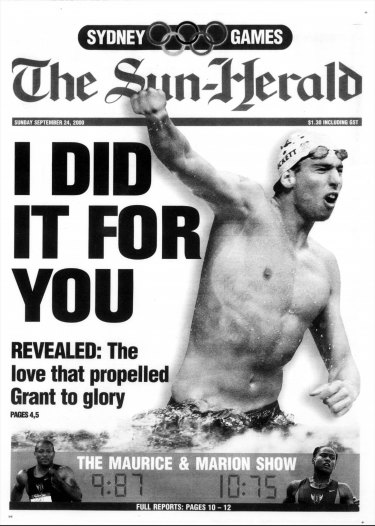 How the Herald reported Hackett's epic win on September 24, 2000.Credit:SMH
Most Viewed in Sport
Source: Read Full Article